The news about Business Insider being in talks to buy Morning Brew for potentially $50 million to maybe $75 million is eeeeextra interesting when you start drawing parallels to another extremely once-buzzed-about newsletter media company: The Skimm.
Both were started by two (white*) founders who met in college (MB was founded in 2015; TS in 2012), both business models center around 1) creating a conversational daily newsletter that breaks down news for a specific audience that isn't necessarily already superglued to traditional news outlets (MB is branded for the LinkedIn set; TS was for millennial women) and then 2) building up enormously powerful referral programs that rewarded subscribers with perks and merch in exchange for helping them grow their audiences.
As a result, both command giant followings (Morning Brew's free newsletter has 2 million subscribers whose extreme loyalty I've personally experienced**; The Skimm had SEVEN MILLION as of 2018, registered ~100K voters in 2016, and were basically THE PLACE authors needed to have their book picked up if publishers wanted to move some serious volume) and have also since branched out into other ventures like podcasting and membership programs.
BUT! Guess which company gets taken more seriously, and which one's still treated in media as a joke — I wrote even in 2018 that "The Skimm is still the go-to punching bag for everyone who pretends they don't upspeak." (More good reading on this from CJR and Foster Kamer). I don't want to believe it's as reductive as "women's media just doesn't get taken seriously, full stop," but if you take a quick scan of the founding mastheads at Axios, Politico, or heck, even the top earning Substacks…….the optics are NOT GREAT, bob!
Anyway, obviously I am not a Real Business Analyst — who knows! maybe Morning Brew has some crazy proprietary newsletter magic tech shit that we are not aware of! — but it just seems WILD to me to do some armchair comparison between both companies' trajectories.
Remember, we haven't really heard a peep about The Skimm since their pandemic layoffs in May. Maybe big orgs HAVE tried to buy TS behind the scenes (but if it didn't happen during pandemic instability, then when?), maybe that's not the kind of exit*** TS founders want for themselves. Still. I'm just saying. If I had a newsletter empire that was bigger and around longer than MB, I would be like WHERE IS MY EIGHTY MILLION DOLLARS?????
*I mean, I'm not not going to point out the general trend how startup culture / media culture / media startup culture / newsletter media startup culture mostly works…
**Deez Links got mentioned in an email ONCE over the summer and I shit you not, this is what it did to my own subscriber list: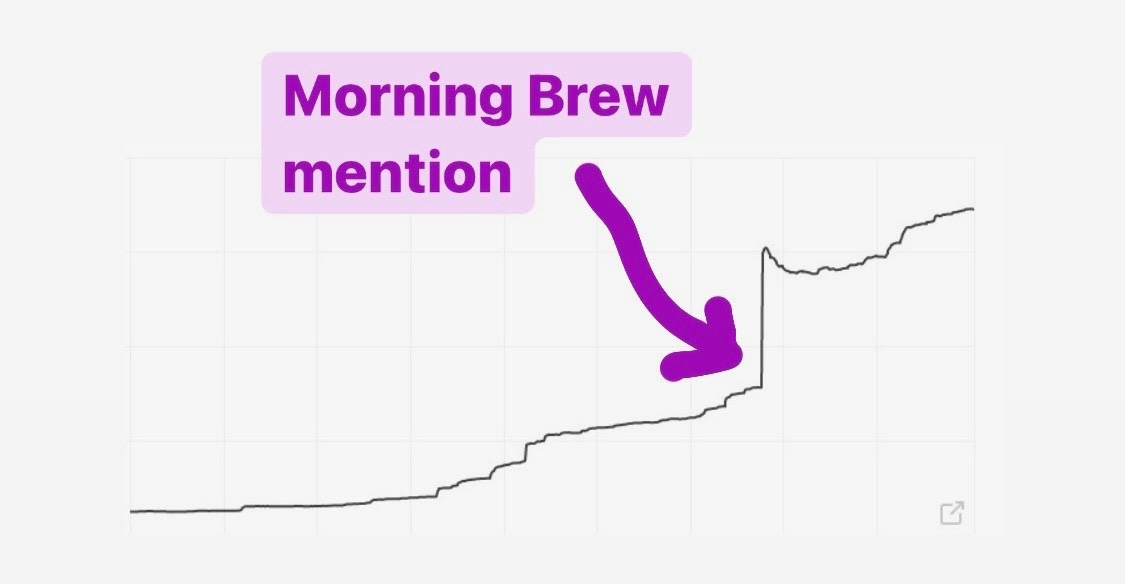 *** she reads Super Pumped once
---
Deez Links is a dailyish newsletter written by delia cai. You can promote your passion project, open job listings, or really whatever you want here via the Media Classifieds.